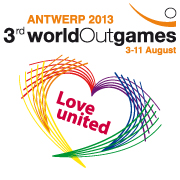 Experience 12 days of Love united
Human Rights Conference: 31 July 2013 till 2 August 2013
Sports Program: 4 August 2013 till 10 August 2013
Culture Program: 31 July 2013 till 11 August 2013
Antwerp … city of 172 nationalities, fashion, diamonds and gay nightlife invites you to the 3rd World Outgames in 2013.
Along with challenging each participant to excel in sports and culture, World Outgames aims to boost acceptance and integration of lesbians, gays, bisexuals,transgender, queer and questioning people (LGBTQ) by and into our society.
Do you want to experience World Outgames differently and help us as a volunteer to make it a huge success? We need you! Please send an email to info@woga2013.org. See you soon and Love United!